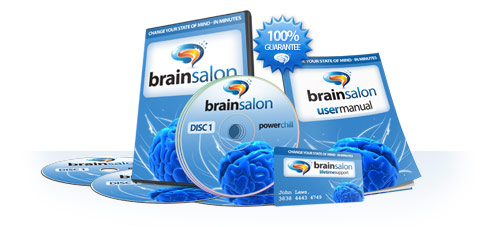 Power Chill
Creative Spark
Ultra Deep Sleep
Instant MP3 downloads
Lifetime Support

High Energy Espresso
Happy Pill
Razor Sharp
Brain Salon Manual
100% Guarantee

I understand that I can use this program completely RISK-FREE for 60 DAYS.

I understand that if it doesn't absolutely change my life, I only have to get in touch and ask for a full, no-questions-asked REFUND.

I realize that stock is LIMITED, and that by ordering today, you will GUARANTEE that the entire package is made available to me at this special offer price.

I understand that you'll immediately unlock ALL six Brain Salon sessions in the Brain Salon series for me, in high-quality MP3 format. I'll also receive the complete Brain Salon manual and lifetime support.

This order form is ultra-secure. Note the "https://" in the address bar. That means this page is stored on a secure server. Your confidential details will be transmitted, encrypted, to our real-time credit card processing gateway.
Please double-check all info before its sent. Once you click "YES!", your address will be passed to our payment processor using the exact details you've given. Therefore, double-check both your billing address and your email address.
Please wait 30 seconds after clicking "Yes" above.
Terms & Conditions
Inspire3 Ltd - Terms of Sale
By submitting your order today, you agree to the following simplified terms of business:
About Us
The official seller of this product is Inspire3 Ltd, 20-22 Wenlock Road, London, N1 7GU, United Kingdom.
Inspire3 Ltd is a partner of Cosmic Media LLC, 101 Convention Center Drive, Suite 810, Las Vegas, NV 89109.
We are registered as a limited company in the UK. Our company number is 06609964.
You can reach our support team by email at

[email protected]

.
"We", "us" and "our" in these terms refer to Inspire3 Ltd.
Your Money
If paying by card, the charge on your account will appear as "INSPIRE3 DOT COM".
If paying by PayPal, the charge on your account will appear as the individual site name.
Your payment information is secure, and every transaction is encrypted using 256-bit military-grade encryption.
All prices are quoted in United States Dollars (USD $).
You will be charged the total shown on the checkout page, which will include local sales tax, if applicable.
We may re-bill your original payment method, if you authorize additional purchases.
We never permanently store your credit card information.
Your Guarantee
Most of our products include a money-back guarantee or trial period, to ensure your satisfaction.
Important: If you paid by card and require a refund after 90 days, the refund will manually via PayPal.
See the 'Individual Site Terms' below for further detail.
Individual Site Terms
For our product:
Your Order
Your order will be completed as soon as payment has been processed.
For digital orders, you will typically receive an immediate download link, as well as a copy sent by email.
To combat piracy, PDFs, audio MP3s, and other files, may be tagged with your personal information. Please do not share.
You must apply any discount voucher codes at the time of ordering. Discounts cannot be applied retrospectively.
Your Information
We'll only use your information to complete your order, and send you relevant marketing material.
If you leave your telephone number, you may be added to our SMS newsletter, where you will receive 3-4 marketing messages per week.
You can opt-out of our communication at any time by following the unsubscribe instructions, or by getting in touch with us.
Our full simplified privacy policy can be found at http://inspire3.com/privacy
Disclaimer & Precautions
Small Print
Our sites and products are designed for individuals aged at least 18 years old.
Your use of our sites and products is entirely at your sole risk and discretion.
So far as permitted by law, and except in respect of death or personal injury arising from negligence, our liability for any losses or damage of any kind resulting from the use of our site or products shall be limited ot the total purchase price of your order. This shall apply whether such loss or damage arises in contract, negligence, under statue, or otherwise.
Your use of our sites and products are your sole responsibility, as a responsible adult.
Our sites and products are the intellectual property of Inspire3 Ltd, including copyright and trademarks where applicable.
You may not use any material from our sites or products without the express written permission of Inspire3 Ltd.