Just imagine if you had a secret mental switch...
A switch that could instantly:
TURBO-CHARGE your FOCUS, enabling you to BLAST through your work at LIGHTENING speeds!
BOOST the HAPPY CHEMICALS in your brain, seriously improving your mood and making you feel great!
TRIGGER the ultimate in mind & body RELAXATION, allowing you to enjoy the absolute best night's sleep you've ever had!
Stop imagining.
That switch is available – RIGHT NOW.
The Brain Salon is a scientifically-proven MP3 series that uses specialized sound patterns to CHANGE your STATE.
In JUST 30 MINUTES, it can recreate absolutely ANY state of mind – including total focus, complete happiness, thorough relaxation, deep sleep, heightened creativity – and MORE.
It's completely 100% safe – and incredibly SIMPLE to use.
All YOU have to do is click 'Play.'
Interested? Read on.
Or click below to play our two-minute welcome movie.

Can YOU Imagine Gaining Access to a SECRET MENTAL CONTROL PANEL...
A control panel that allowed you to CHANGE your state of mind at the click of a button, giving you unprecedented CONTROL over your state, feelings and emotions.
How would that COMPLETELY change your life?
Think about this...
How many times has being in the 'WRONG STATE' held you back in life?
You're trying to study, but your mind is elsewhere. You keep getting distracted, you can't stop fidgeting, and you're getting NOTHING done.
You're desperate to FOCUS – but CAN'T.
You've had a rough day at work, and are supposed to head out for the evening. But you can't shake off that grouchy feeling and get into that happy, peppy mood that others associate you with.
You're desperate to IMPROVE your MOOD – but CAN'T.
You're in bed at night, with a big event happening tomorrow. You NEED to sleep – but you're spending hour after hour, turning in bed, your mind racing, completely unable to relax and dive into slumber.
You're desperate to get to SLEEP – but CAN'T.
Well, that's all about to change.
With the Brain Salon, you can QUICKLY and EASILY turn around ANY of these situations – and many others too.
In just MINUTES, you can change your entire state, feelings and emotions, just by slipping on a pair of headphones, and chilling out.
But just WHAT is the Brain Salon?

"Brain Salon is a powerful brainwave entrainment CD program that produces altered states of consciousness upon command. Whether you want to sharpen your focus, enter a happy state, gain energy, chill out, or dip into a blissfully relaxed sleep, this amazing brainwave entrainment CD program can do it all. I love it!"


The Brain Salon is a SERIOUSLY POWERFUL collection of SIX MP3 audio sessions, each designed to bring about a specific state of mind.
Whether you're looking to boost your mood, increase your focus, or become more creative, there's an MP3 session for you.
The sessions are built on over 100 years of brainwave research, and use a science known as "brainwave entrainment" to gently influence your brainwaves, bringing about the desired state in MINUTES.
Simply slip on your headphones – and get READY for RESULTS!

The Brain Salon has received praise from thousands of individuals and industry leaders across the globe, including SelfGrowth.com founder David Riklan, self-esteem author Dr Joe Rubino, and three-time Olympian Ruben Gonzalez.
The program was developed at BrainEv Labs by brainwave specialists Craig Tice and Joe Verona – and comes from Inspire3, the same group that brought you the world-famed Brain Evolution System.
So, if you want to seriously BOOST your energy levels, if you'd like to enjoy the BEST night's sleep you've ever had, or if you'd just like to CHILL OUT a little bit more....

... Then step into the Brain Salon.
Many thousands of people know that the Brain Salon delivers AWESOME RESULTS.
But how does it actually work?
Well, it's all based on a science known as "brainwave entrainment."
Every state of mind has a unique electrical signature that can be detected in the brain. These signatures are known as "brainwaves." Using specialized equipment, these waves can be measured and recorded – allowing us to map what brainwaves are present during certain key states of mind.
The audio sessions inside the Brain Salon combine special inaudible pulses with lavish natural sounds to recreate certain brainwave signatures, using a scientifically-proven process known as "brainwave entrainment."
Each Brain Salon recording combines brainwave entrainment techniques such as isochronic tones, binaural entrainment, and sound modulation for absolute maximum effect.
Using these brainwave entrainment methods means that the Brain Salon can recreate brainwave patterns, and bring about certain states of mind – on-demand. States such as increased creativity, deep relaxation, and enhanced focus, for example.
It's a science that is backed by over 100 years of research, and is 100% safe. To learn more about the research behind the Brain Salon, click here.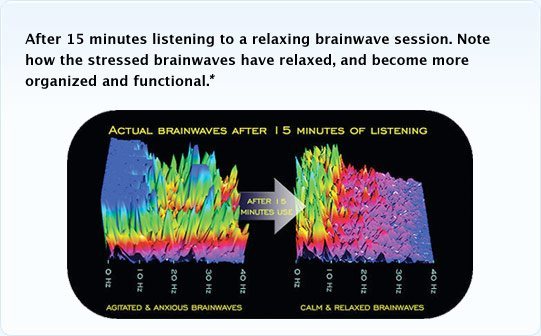 "I have used other brainwave entrainment CD programs, but found Brain Salon to be the most enjoyable. You don't need to understand the science behind how it works or why - just know that it does! Strongly recommended. How else can you get to change your state, thoughts and emotions at the flick of a switch?"


Are YOU ready to start controlling your state?
Would YOU like to discover the SECRET KEY to changing how you feel – just by hitting the "Play" button on your MP3 player?
The Brain Salon contains six POWERFUL sessions for bringing about EVERY major state of mind – in just 30 minutes.
So, let's take a few minutes out to discover the six exciting sessions - all READY-TO-RUN inside the Brain Salon…
Get ready to chill out, with this deeply relaxing and re-energizing session.
You'll return from the session feeling incredibly tranquil, recharged and grounded – with a big improvement in your mood, too!
Whenever you need a break from a stressful situation, whenever you get home from work, whenever you just want to really recharge those batteries – this is the session for you.
View Technical Information About This Session
This session uses a proven technique for inducing deep relaxation, playing one frequency for two minutes, then alternating to a second after a 30-second ramp, then reversing the process. The first half of the session switches between a serotonin-boosting 10Hz and the grounding and rejuvenating 7.83Hz Schumann resonance. The second half of the session goes even deeper, alternating between the relaxing 7.83Hz and 6.3Hz, a frequency associated with releasing anger and irritability. The session ends on a chilled out 10Hz.
Switch on your imagination, and dive into genius with this inspirational session!
You'll return from listening brimming with ideas, thoughts, concepts, and solutions – with fresh mental connections you never before considered.
Whenever you need a little inspiration, whenever you want to nd that impossible solution, whenever you'd like to see your mind think like a creative genius – this is the session for you.
View Technical Information About This Session
This unique session works the opposite to most sessions. It attempts to to 'dis-entrain' the brain, breaking stuck thinking patterns and allowing a fresh way of thinking. The recording contains random and chaotic isochronic tones spanning 7.83 to 18 Hz, played over a background of gamma-embedded noise. Use this session to sit back and allow fresh ideas and new connections to form. Finishes at the illuminating14Hz sensorimotor rhythm frequency.
Prepare yourself for the best night's sleep – ever!
You'll probably never hear the end of this session, as it gently guides you into a deep, reinvigorating slumber.
Whenever you just need a really great night's sleep – this is absolutely the session for you.
View Technical Information About This Session
As you close your eyes, this session quickly lulls you down into deep delta sleep, where the body recovers and grows. The session starts at a waking frequency, soon taking you down deep into delta, with stops at sigificant beneficial frequencies such as the de-stressing 10Hz, the grounding 7.83Hz Schumann resonance (SR), and the deeply relaxing 5.5Hz. You'll soon find yourself in a deep, healing sleep. If you're particularly stressed, try listening to Power Chill before starting
Get ready to switch on your mind – and conquer the world!
You'll love the awakened buzz and general pick-me-up feeling this session gives – the perfect antidote to a lethargic mind. It's morning caffeine in audio format!
Whenever you want to speed up your thinking, whenever you need that physical and mental edge, whenever you need to sharpen your presence – this is the session for you.
View Technical Information About This Session
An invigorating, brain-sharpening session, this audio starts at 14Hz, a beta feel-good frequency and SR harmonic. It then steps up in six-minute harmonic increments, gradually up to gamma 39Hz, leaving you feeling mentally stimulated and full of energy. A binaural beat track supports the main frequencies for those wearing headphones. Uplifting background music with embedded amplitude modulation provides a further layer of entrainment. Excellent for use as a morning alarm clock, ahead of a big night out, or to inspire those tired trips to the gym.

Be careful not to overdo it: listening late at night can cause sleeping problems, and leave the session for a while if you start feeling anxious. Power Chill should help resolve any irritability.
Enjoy a brilliant boost in your mood – with this digital happy pill!
Find yourself reveling in the beauty of life, letting go of all problems and stress – and just generally being a brighter, better, happier, more fun self!
Whenever you want to cheer up before a big day, whenever you want to release stress and problems, whenever you want to really boost your happiness levels – this is the session for you.
View Technical Information About This Session
As soon as this session begins, the 10Hz frequency kicks in, helping to release your worries, brighten your mood, and encourage release of the happy hormone, serotonin. This is followed by progressive patterns of euphoria-inducing beta frequencies, each building on the last, helping you to get you energized and feeling great. The uplifting background also gives this session an added kick. An excellent way to start the day - but don't use it too late, as it may disrupt your sleep patterns.
Instantly switch your mind to laser-sharp focus mode – and get on with the task at hand with absolute speed and clarity.
Perfect for getting through big chunks of work, complex studying periods, or any activity where intense attention is required.
Whenever you want to put your mind into super focus mode, whenever you have intense chunks of work to complete quickly, whenever you need to sharpen your brain and get on with the job – this is the session for you.
View Technical Information About This Session
This session shifts from the 14Hz sensormotor rhythm through beta to 40Hz gamma, and repeats the pattern over and over, constantly "revving up"the mind with each repetition. The process is stabilized with a 10Hz background alpha beat, allowing the brain a place to relax instantly, whenever a let up allows. Use this session any time, and for as long as required to get the job done. Take in a High Energy Espresso on long-hauls for a welcome lift. Works without headphones, but the best benefits can be found with them. The session finishes at a fast, revving 18Hz beta. For use mainly with eyes open, engaged in activity - with benefit to be gained from periodically closing your eyes briefly and relaxing.

"Wow, wow, wow! When I coach people, the first thing I do is help them change their state as quickly as possible – and now it's as easy as using one of the Brain Salon sessions. I can't wait to share this program with all of my clients – once they use Brain Salon to easily get into a powerful state, then the work I do is going to take them to levels they never imagined possible…"


Can you IMAGINE possessing this level of MENTAL CONTROL?
Think about being able to consciously decide EXACTLY what your state of mind will be at any one time – just by listening to a simple audio recording!
Copy the audio MP3s direct to your iPhone or MP3 player, or burn to CD and pack them whenever you travel. You'll ALWAYS be ready to change your state, whenever you desire.
With the Brain Salon, YOU are in control of YOUR mind.
This is your mind's instruction manual, your cerebral control panel. It's your SECRET WEAPON in performing better than EVERYBODY ELSE.
And we GUARANTEE that you'll love it.

"The Brain Salon lets YOU control how you feel! Just hit play, and change the way you feel. It really is unbelievably simple! The whole process is effort-free, and takes just minutes. The science behind it will blow you away, too. These days, I use Brain Salon all of the time – and highly recommend it to all of my closest friends. As director of the company that produces this program, I urge you to give it a go. I guarantee it will amaze you!"



Our guarantee to you is SIMPLE.

We promise that you'll be absolutely ECSTATIC about how the Brain Salon will change your life. Within days, you'll find yourself amazed at the results, and wonder how you ever lived without it!

That's our SOLID, 100% GUARANTEE – backed by Inspire3, the developers of the Brain Evolution System.
We'll even give you a WHOLE TWO MONTHS to make up your mind!
If you're not ecstatic for ANY reason at all, don't worry. Just let us know within 60 days, and we'll refund every single cent you paid.
NO small print, NO hidden costs, NO questions asked.
It's absolutely RISK-FREE for you. That's how confident we are that you'll love the results you get.

"I'm listening to Creativity as I'm sending you this email. I've tried the others as well. Deep Sleep should be called Rip Van Winkle. I've always had trouble sleeping through the night and have tried other binaural recordings. They always helped me to get to sleep - but not sleep all night…
"Well, with Deep Sleep I slept ALL NIGHT for the first time in years! I have nothing but good things to say about these sessions. The Brain Salon will help me to take the next step in improving my life. My entire attitude on life has changed for the better with really no effort of my own. What a priceless gift! Thank you!"


Ready to discover the power of the Brain Salon?
Let's discover precisely what you'll get when you decide to order YOUR copy of this amazing program – TODAY.

Place your order by midnight, tonight, and you'll receive*: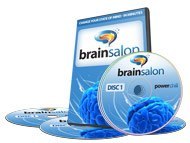 The FULL Brain Salon MP3 series – The ENTIRE six, 30-minute audio sessions from the Brain Salon series, including Power Chill, Creative Spark, Ultra Deep Sleep, High Energy Espresso, Happy Pill and Razor Sharp. All available instantly as high-quality MP3 audio downloads.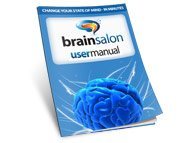 The COMPLETE Brain Salon User Manual – Your total guide to getting started with the Brain Salon, including a full introduction, and technical overview of every session in the series. Everything you need to know – and more! PDF format.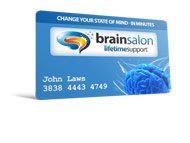 LIFETIME Support for the Brain Salon – Got questions? We've got answers. Purchase today, and you'll automatically receive lifetime support from our experts. Ask them ANY question about the Brain Salon. They're here to help!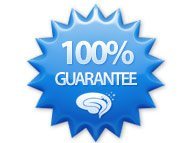 TOTAL 100% Money-Back GUARANTEE! – Try out Brain Salon for a whole 60 days, absolutely RISK-FREE. If you're not completely thrilled with the results, just let us know and we'll give you a FULL refund. Easy!

Order TODAY and we'll also include BONUS MP3 recording with the original Brain Salon developer, Craig Tice, as he explains how the program was put together, and how best to use the sessions within it.

"Whereas my regular meditation practice gives slow results, I can get into a state of deep relaxation very quickly using the Brain Salon. This is so useful, especially when I need to make a presentation or deliver a pitch. The series helps me de-condition myself from my mind's negative patterns - patterns of stress, anxiety and fear - and instead installs new patterns which help me achieve my goals and end self-sabotage. Love it. Keep up the good work."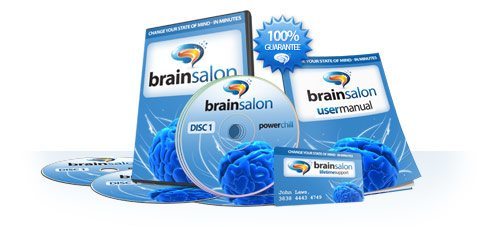 It's time for YOU to discover the Brain Salon.

You'll receive absolutely EVERYTHING listed above – the entire range of Brain Salon sessions in high-quality MP3 format, the full user manual, lifetime support from our team, a no-questions-asked 60-day money-back guarantee –

- ALL for two tiny installments of just $147 - $127 - $77.

That's less than a couple of nights in a flea-ridden motel.

And for that tiny price, you'll possess the SECRET POWER of being able to completely change your state and mood – IN 30 MINUTES, or less!

Or you can pay in one SINGLE INSTALMENT, and pay EVEN LESS – all for exactly the same package!

Just choose the option you'd prefer – and begin the adventure:


Select one of the options above NOW - to begin the purchase process.
Well, that's all for now. We urge you to download your copy, while this program is still available.

Get ready to discover the awesome power that is the Brain Salon!

Best wishes,
Karl Moore

, Director, Inspire3

Justin Hammond

, Brain Salon co-developer

From the company that brought you

The Brain Evolution System

™

PS. Remember, we have LIMITED DIGITAL STOCK of the Brain Salon! We've warranted that we will only provide this release to 1,000 customers worldwide. And when that counter hits, you WILL NOT be able to purchase anymore. So you MUST take action now if you'd like to discover Brain Salon for yourself!
PPS. The Brain Salon is NOT available anywhere else! We don't retail in-store, via television, online at Amazon, eBay, or any other website. You can ONLY purchase the Brain Salon from THIS WEBSITE. That means if you'd like to discover the Brain Salon, you MUST do it HERE – now!

PPPS. Don't forget our 100% MONEY-BACK GUARANTEE! We promise that you'll love the Brain Salon. If you don't, we'll return every single cent you paid. And you get a full two months to try it out for yourself, too. Go on. Find out what all the fuss is about. Discover the Brain Salon for yourself, TODAY!

"I'm really enjoying the Brain Salon recordings. I was a huge fan of the BrainEv System and found the technology to be a cut above the competition. I often wished you guys would produce recordings for specific purposes, so I was very excited when I heard about the Brain Salon. I love using the Razor Sharp track, it instantly puts me into 'The Zone,' where I'm totally into whatever I'm doing... and do it incredibly well. I also use the Creativity track a lot when I'm doing something that requires lateral thinking. I'm super-excited that you guys went ahead and used the BrainEv technology to create tracks like these. I'd highly recommend anyone to check out the Brain Salon."


"Brainwave entrainment has powerful benefits, that's clear. But most brainwave entrainment CDs tend to be non-specific, across the board. What if you want to achieve one particular state, 'cos that's what you need right now? That's possible with these Brain Salon sessions! You want to chill out, get ideas, go to sleep, feel energized or happy, or get 100% mentally switched-on - just listen to the session and you've got it! You 'get the hang' of these states too, so after enough practice you don't even need the brainwave entrainment CDs to control your own mind. It's worked for me, and I'm sure will do the same for you too."


"I have had a good try of the Salon series with great results.
"All the audios are very pleasant and unique sounding, different from what I've experienced in the past. I was extremely impressed at how well each one worked.
"I have been using them as often as I could over the past week. During this time, I have undertaken editing a book, and plenty of reading, amongst other things. To help, I used the 'Razor Sharp' audio. It was like I was in my own little bubble of concentration. Amazing! I will continue to use this one every time I am working on something at the computer.
"I'm now writing sales copy and the 'Creativity' audio has really helped the flow of ideas, and even the most complex thoughts seem to connect easily with clarity. Usually I would have to do my best to grasp onto ideas whilst I am implementing them. This session alone is worth the asking price!
"The other morning I woke up feeling really foggy. After an hour or so, I remembered the 'Espresso' audio and decided to give it a go... It was a perfect lift me up and seemed to clear that heavy tired feeling straight away!
"The 'Happy Pill' audio is interesting and I was expecting some bouncy music, but instead it was beautiful, almost healing music that left me feeling at peace with a smile on my face and love in my heart.
"For two nights, I decided to use the Brain Salon's 'Deep Sleep' audio and it was sooo good! I fell asleep within seconds and felt refreshed upon waking the next few mornings. I recommended it to my father who has had trouble sleeping lately due to pain in his hands. He reported to the today that it helped him to not only fall asleep quicker but added an extra hour and a half of deep restful sleep - he loved it :)
"Thank you for these awesome audios, I will tell others about them!"


"As an active user of brainwave programs for over 8 years, Brain Salon's brainwave entrainment CDs are some of the most advanced and effective products I have ever had the pleasure of using."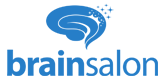 '); //document.write('\');